Beyond the Limits: Overcoming Adversity through Scholarships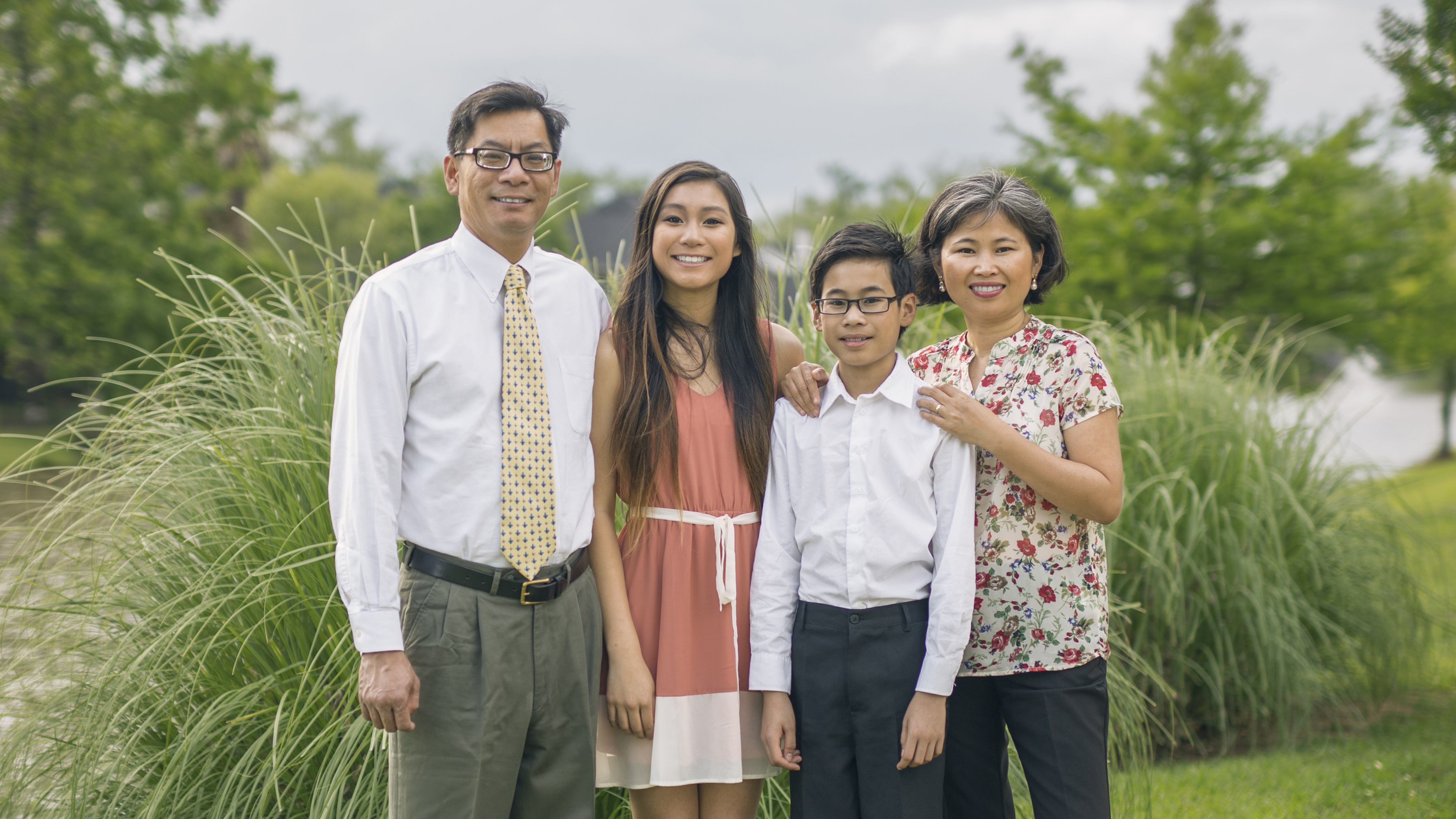 In appreciation for his education and scholarship support, Dr. Quyen Chu and his wife, Trina (right), have named Dartmouth's Geisel School of Medicine and Dartmouth College in their estate plans. The couple lives in Louisiana with their two children, Thuytien and Yen.

Photo credit: Martin Graham Meyers
The world opened up to Quyen Chu when he was accepted to Dartmouth College and later to medical school. Now, he's made plans to help future students through a bequest intention to the Geisel School of Medicine and Dartmouth College.
Quyen Chu gazed across the Dart-mouth Green. It was 1986, and the 18-year-old had just stepped off a Grey-hound bus carrying a duffel bag stuffed with pretty much everything he owned. He thought about Vietnam, where his family had lived until the war ended when he was seven. He thought about the simple barbershop in Tavares, Florida, where his father—once an Army captain—worked long hours to support his family of six. He thought about all the times he'd told his friends he couldn't hang with them because he was out of town, when in reality, he was picking up aluminum cans along a roadside with his dad or cleaning a church with his mom to help make ends meet. He thought about the day his mother had appeared at the door of his high school physics class with a huge smile on her face and a letter from Dartmouth in her hand.
Now, as he watched other students toss plastic discs, framed by Georgian-style brick buildings, he wondered: Could he fit in at an Ivy League college? A young man approached. "Hey," the student said. "You wanna play some Frisbee?"
With that, Quyen was off and running.
Never Forgotten
Now a professor of surgery and chief of surgical oncology at Louisiana State University Health Sciences Center, Dr. Quyen Chu performs as many as 350 procedures annually, including esophagectomies, liver resections, and complex abdominal surgeries. He's written two textbooks, 19 book chapters, and 178 publications and abstracts. He's won numerous numerous awards and in 2013 was appointed by President Barack Obama to the Board of the Vietnam Education Foundation. But he's never forgotten the medical school and college that believed in him enough to offer a nearly full scholarship.  He's grateful for professors who knew him by name and honed his critical thinking skills. 
"They really listened, and they challenged us to think beyond what was printed on papers," he says.
Helping Those in Need
Most of the individuals Dr. Chu treats now are of limited means, and often, their circumstances delay their seeking treatment or get in the way of following instructions. That's when he reaches back for his father's words: "It was not so long ago that your parents were in those shoes. Your patients may have nothing in life, but the one thing they can be proud of is that they have the very best surgeon taking care of them. Don't forget that."
He hasn't. For the past three summers, he has traveled to war-ravaged Kurdistan to perform free surgeries. He and his wife, Trina, a lawyer, have also made plans for a generous bequest to the Geisel School of Medicine and Dartmouth College. 
"It takes my breath away to picture the 18-year-old kid that I was," he says. "Until then, the only world I was a world of poverty and a world of limits. I am just so thankful."